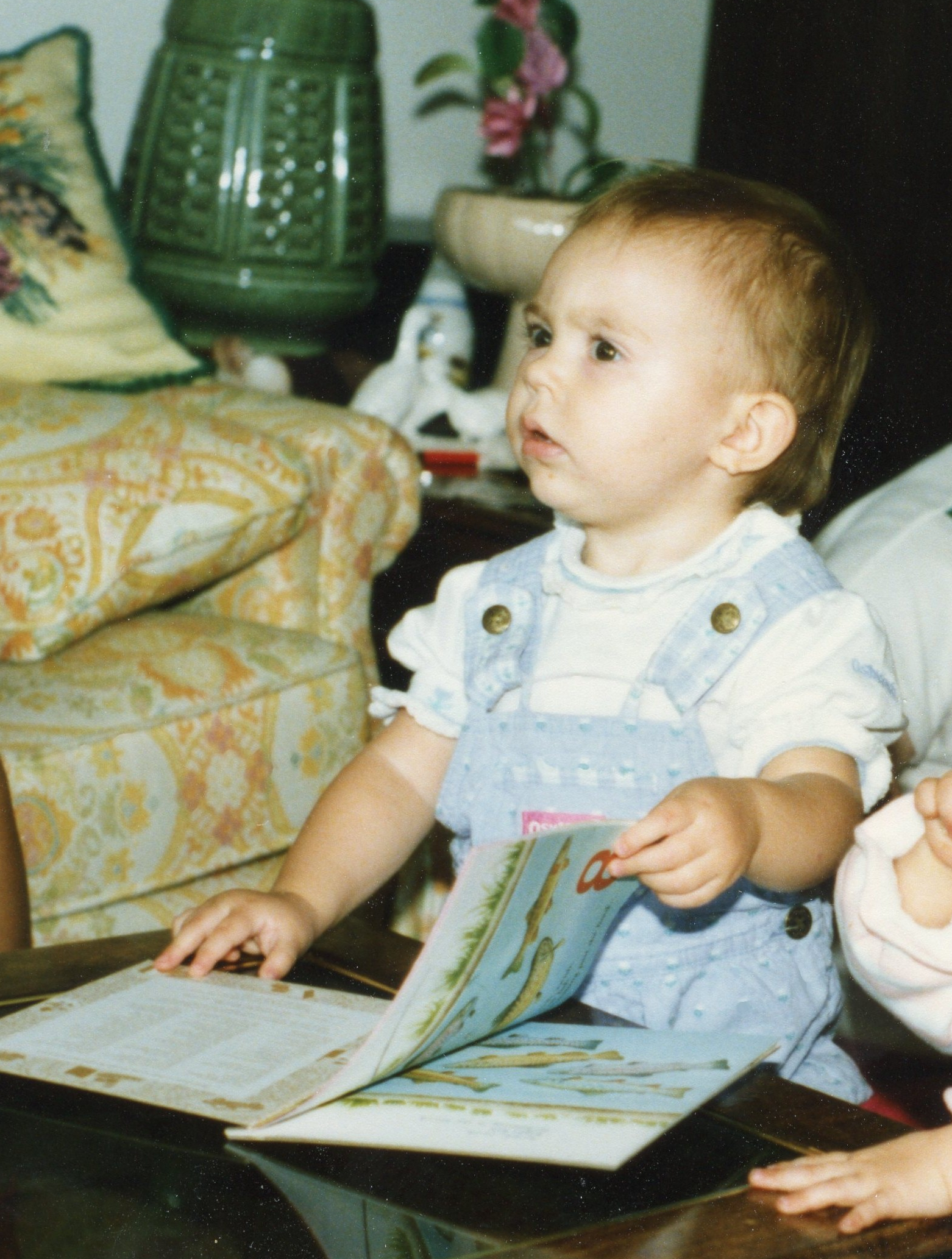 I have always been a ferocious reader, and always interested in the past. My interest in literature, history, public service, and genealogy has led to a career as a librarian. Last year I completed my MSLIS, but my family's connection to libraries does not start there!
I loved reading when I was growing up. When most kids my age were watching TV or playing video games, I was reading. Most of the time, I checked out books from the school library. By the end of the school year, I'd have pretty much read all the books that interested me from the small school library. I really looked forward to the Scholastic Book Fair at school, because I was always allowed to get one or two books for my own library at home. I read and reread all of those books through the summer, and when I was tired of the books from the school library! I was encouraged to read as much as I wanted, and I loved it!
My aunt Pat was also a librarian. She passed away when I was ten years old, so I have not been able to ask for her guidance in my own library career. However, she did support my development as a reader as I was growing up. Our town was too small to have a library, so I could not visit the public library like others could. But, one summer, she and my mom somehow got me a library card from the next town over, and I participated in the summer reading clubs at the library. I remember going to story times, making crafts out of thin willow branches, and reading hundreds of books over the summer, including Mary Poppins (which I thought was really boring at the time)! When she and my mom were growing up, they would often go to the public library to pick out exciting new books to read. They both grew up loving the library!
My aunt Pat was a school Library Media Specialist at Somonauk High School from 1991-1998. She loved helping her students find the resources that they needed for school, and also loved recommending her favorite books for leisure reading. She thought that children should have the freedom to read what they wanted, and wanted to make reading enjoyable. She also wanted her small-town school to have the best resources available, so she fought for and established the district's first-ever media center with computers! (This was the 90's when computers and media centers were first starting to come into school libraries.) When she started, she advocated changing the name of the library to "Library Media Center" to reflect the evolving resources available in the library. To get the name to stick, she bought Hershey mugs and filled them with chocolates with the new name on them and placed them around the library. She bribed everyone with chocolate, and the new name stuck! One of her duties was also supervising a "tele-course" of French that was taught via satellite. I imagine that this class was an early version of online courses (which I took as a student at UIUC!). Her promising career was cut short when she was diagnosed with cancer, and passed away from the disease in 1998. I would imagine that she would be in awe of the advancements in digital services and the changes in librarianship in the past 20 years!
Although many family members have been teachers, Pat and I are oddly the only librarians in the family. Perhaps future generations will produce more librarians in the family!
---
BONUS: Libraries are at the core of my genealogy research
Libraries have always been one of the most important sources for me while I've been researching my family tree. I've used their amazing local history collections, browsed their reference books, attended genealogy programs, and used a variety of genealogy databases. Many of my blog posts have been written with the help of libraries, librarians, and their resources. Some of my favorite libraries, library resources, and archives include:
Illinois Digital Newspaper Collection

(hosted by the University of Illinois libraries, and newspapers provided by various libraries across the state) has helped me locate countless articles about my ancestors, including articles about my earliest Illinois ancestors, my great-grandfather and his family's tinning business, and newspaper clippings about eclipses that Illinois experienced.

Joiner History Room

(Sycamore, IL) has helped me locate old maps and photos for The History of Pleasant Hill School, The Underground Railroad at Pleasant Hill, and my great-great-grandfather's tinning business on Lincoln Highway. Their physical collection was also my starting point for my DeKalb County research back in the day when I was just starting genealogy research. The volunteers there are wonderful!
The University of Illinois Digital Collection has so many wonderful Illinois maps that I've used to create geocoded historic maps and to locate my family's farms.
The Family History Library in Salt Lake City helped me break through a brick wall in my family's Pittsburgh history.
HathiTrust, the Library of Congress, and The Internet Archive have a lot of digitized books and atlases that I use for reference when I'm not able to access these books directly at a local library.
DeKalb Public Library, Sycamore Public Library, Urbana Free Library, Newberry Library, and Chicago Public Library have wonderful resources and librarians who have been very helpful to me!
Want to learn more about your family history, or have you hit a brick wall in your research? Ask a librarian! We may be able to help!